A few rookie mistakes and a lot of lessons learned.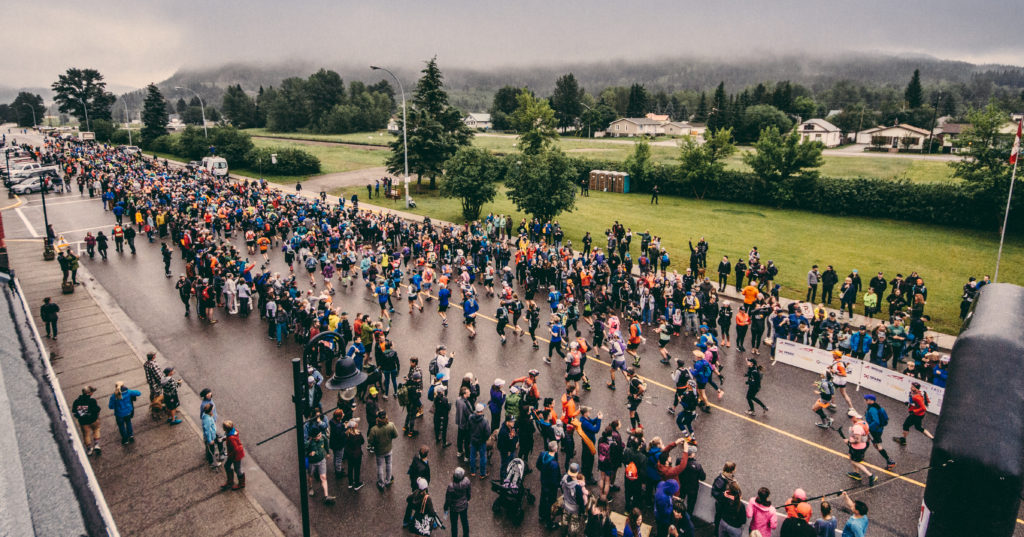 Why I am writing this race report… for me – in case, one day the crazy idea or doing this race again or a different 100 miler creeps into my head, for my kids to read someday, for other runners who what some info on the Sinister 7 race or just want to know what it can be like to run 100 miles in the mountains, for those armchair athletes who may never have an opportunity to run in the mountains but would like to know what it's like and finally for those people who are concerned they won't have enough energy eating a plant-based diet.
Goals:
#1 Finish with a smile under the 30 hour cut off
#2 Finish under 24 hours
#3 Finish under 22 hours and in the top 10 overall
On July 6th & 7th, 2019 I ran the Sinister 7, a 100-mile ultramarathon trail race in Crowsnest Pass in southern Alberta. The race is made up of 7 legs and includes over 20,000 ft of elevation gain and loss.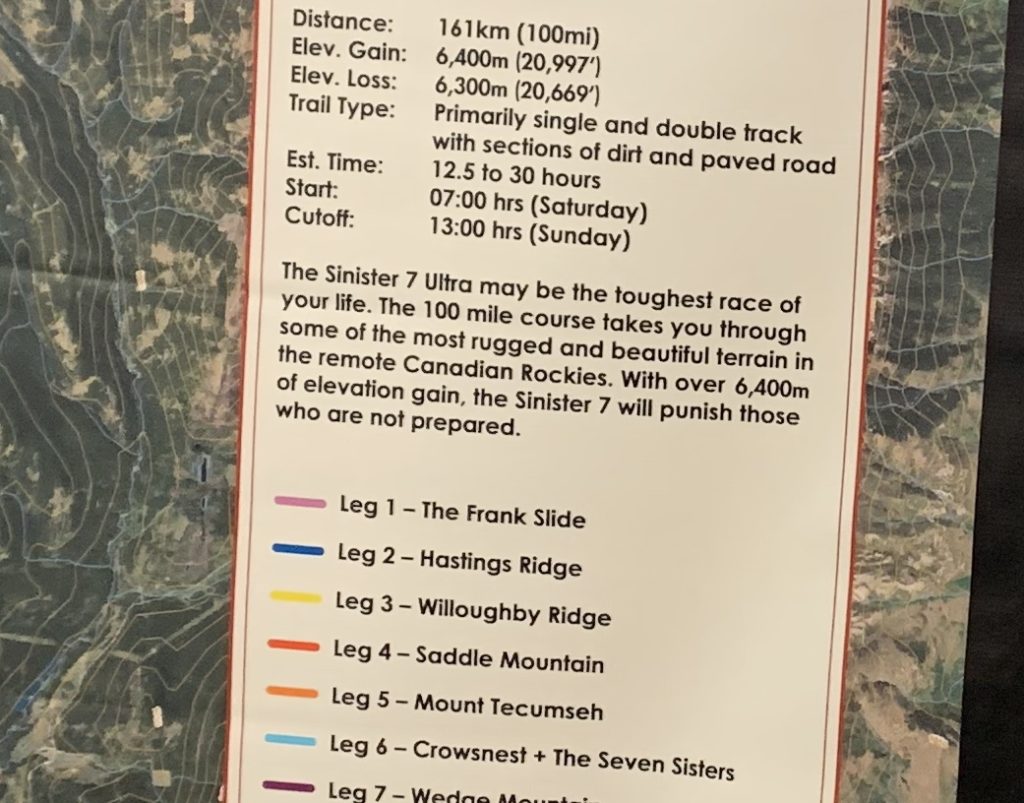 I signed up for the race looking for a new adventure, a mental and physical challenge that would push me to my limits. From my past experience, I knew I could somewhat comfortably finish marathons, Ironman triathlons, and a 50-mile ultramarathon, but 100 miles would be new territory for me.
"The greatest learning happens on the edge of your comfort zone."
I have always been intrigued about learning how far I can push myself mentally and physically and, in this race, I was in for some learning. I was looking for an epic challenge and I got my money's worth.
Ultramarathons also appeal to me at this stage in my life because, unlike my previous hobby and career, mountaineering, there are fewer risks in supported ultramarathons. I am not going to fall in a crevasse or die of exposure and medical help is never too far away.
However, even though it was as risky of a race, for the first time in a long time I was going to start a race I didn't know if I could even finish.
The 100-mile Sinister course, one of the most challenging 100 mile runs in North America (this is how tough the course is), would be double the longest distance I have ever run and, as it turned out, 20 hours longer than I had ever run.
I had a good (not great and certainly not perfect) winter of training given my other life commitments, the flat terrain around my home in Ottawa and challenging winter weather.
Race Lead Up
I completed a Sulphur Springs 50 mile 'warm-up' race 6 weeks before Sinister to test out my winter training, equipment, and nutrition. At the time I didn't realize that wet conditions and shin-deep mud on the course would also provide good practice conditions for Sinister.
The race went very well, almost exactly to plan. I finished in 8-hours 15 min which is right around where I hoped to finish. This gave me a good confidence boost going into my final prep for Sinister.
After returning to running after recovering from the 50-mile race, I developed a case of patella knee pain, common with many runners and something I have dealt with in the past, probably because came back to running too hard too soon. A year ago, a 50-mile race felt monumental as it was the longest, I had ever run at the time and I took weeks off to recover after the race. It's funny how the mind works because this year I treated the 50-mile race as 'warm-up', a minor speed bump of a race on my way to my 100-mile race. In retrospect, I should have done a better job recovering from the 50-mile race which would have allowed me to avoid the patella knee injury I was now dealing with.
In the last 4 weeks leading up to the race, the knee pain would come and go, mostly because I kept testing it, which is another mistake many athletes make. There were days I contemplated dropping out of the race before I started. The last thing I wanted was to travel all the way to the race only to drop out 3 hours into the run because of my knee.
The one good thing about the injury was that it forced me to have more of a taper than I would have otherwise allowed myself. Realistically I logged hours of heavy training for this race all winter and that last 4 weeks of training was going to do little to further increase my endurance. Still, the lack of quality long runs leading up to the race was playing with my head and had me thinking I wouldn't be ready for the race. In all races, your mental health is just as important as your physical health, especially at the 100-mile distance.
Going into the race I tried to do as much research as I could without ever stepping on the course to see what it was like in person. Living in Ontario and with the race taking place in Alberta, training on the course was not a possibility. Instead, I read about a dozen race reports from runners from previous years and watched most of the YouTube footage of the race. I talked with 3 previous winners of the race and a coach who has been coaching athletes in the race for a few years. I reviewed the course map and route description countless times.
With all of this, I still found it hard to commit all the detail of the 100 miles to memory and once I started running, I found that much of the information became a little blurry in my head. Good thing I ran into several runners of the course who had run the race before and could answer my questions about the next sections. However, comments like "leg 3 can be brutal and the worst part about leg 4 is that it comes after leg 3" didn't make things any easier on my legs.
The coach I spoke with before the race said that of the 7 legs in the race, legs 1-4 (the first 80 km) was mostly runnable and should be treated as a warmup as the race really starts on leg 5 and I knew that leg 6 was being rated 7 out of 7 on the difficulty scale as the hardest of the course. So, this was my expectation…
The Race
Leg 1
The race started at 7 am on the main street in Blairmore, and headed east along the highway, through Franks Slide (look it up) for about 8 km's. A few km in I started chatting with a runner named Mikael Herrman from Finland. We ran together for a couple of hours and had a great chat. Once I learned his last race was his second attempt at the Barkley Marathon I knew I was running with a very experienced, semi-elite runner. I learned we had similar, ideal-conditions finish time goals. I also learned that Mikael is an engineer who also coaches ultra-runners and has an ultra-running podcast in Finland.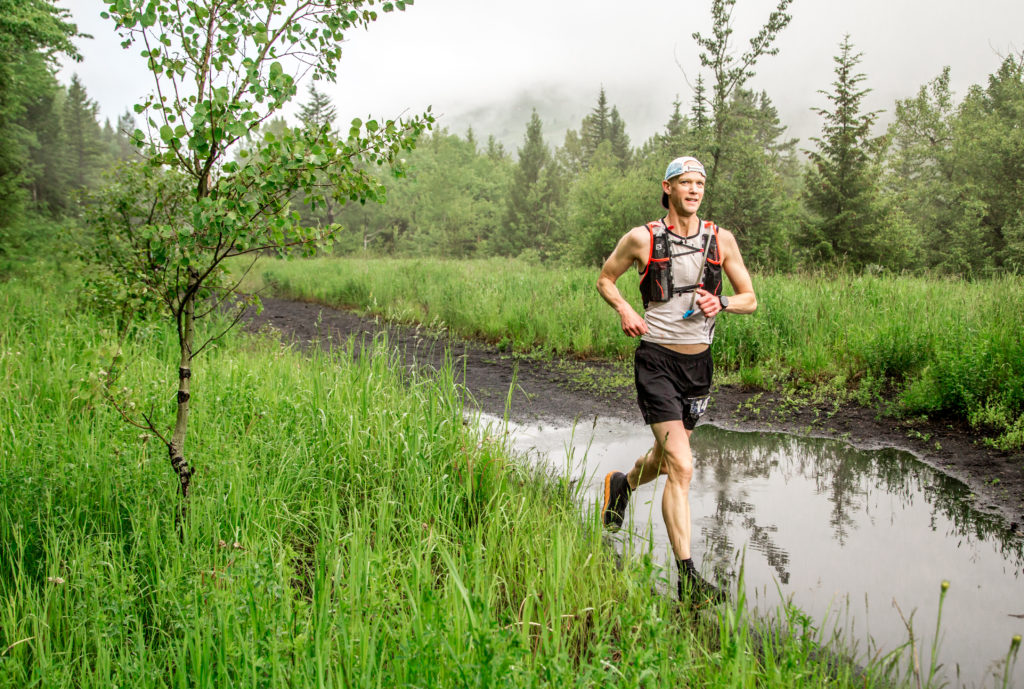 Knowing all this about Mikael, and since I was a 100-mile rookie I should have stayed with him as long as I could but shortly after the end of leg one, I lost him when he stopped to fill up on water and I kept going since I was carrying a 1.5-liter bladder in my running vest.
Leg 2
Leg 2 started out with a very long gradual climb that was runnable, but I was second-guessing myself most of the way up, wondering if I should have been running it. Most likely if the hill was toward the end of the race, I would not be running it. In ultramarathons, there is a saying, "if everyone around you is walking this hill, then you should probably be walking." In this case, everyone around me seemed to be running, albeit slowly.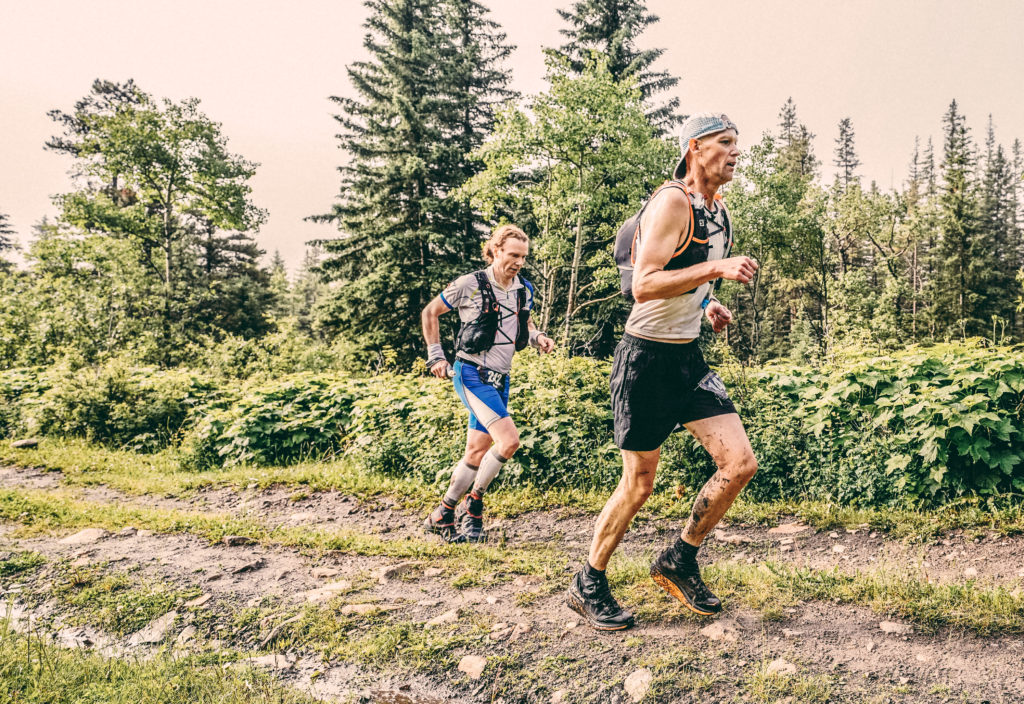 Toward the top of the climb I had been running with several women, I wondered if these were the leaders of the race as they seemed very strong but learned that most of them were relay runners. It's possible that only the relay runners were running this section, but it is here that I went ahead of my very experienced new friend Mikael.
While there was 239 solo (sold out), 100-mile runners who started the race, there were also well over 200 teams on the course most of which have one runner complete each leg of the race. While I like the energy and the amount of people relays bring out to trail races I also like when everyone I am passing and those who are passing me are in the same race. This was not a looped course, which I loved about the race, so every solo runner you were running with had covered the same amount of terrain as you had to that point.
Discovering the people around me at the top of the climb were relay runners was the first time the race started to play with my head.
Halfway through leg 2, about 3 hours into the race was the first time I felt my patella knee pain. This concerned me but I had resigned myself to the fact I may have to run in some pain the rest of the race and or take an Advil. I wasn't keen on taking pain medication so early in the race, so I carried on with the dull pain in my knee. It bothered me more on the downhills which seemed to be a fraction of the time I spent on the uphill's, ah one positive for the hills mountains we had to climb.
Towards the end of leg 2 we ended up on some signal track trails that were stupid steep and almost silly to be in a running race. I was thinking, "why would they bring the course up this trail, it is not even close to runnable". It was almost more of a scramble up and the way down was just as steep, at times I was wishing I had a handline to hang on to going down. I later figured out this terrain was pretty common in big mountain ultra-running. Welcome back to the Rockies, Shawn! The nice thing the steep trail gave us was our first incredible view of the surrounding mountains.
Running into TA 2, I felt like a downhill skier crossing the finish line in a world cup with the way it was set up there seemed to be people cheering on three sides and it was a little overwhelming. For this race, I didn't have an official crew, but I did have some friends and family at most TAs to help me out. Experienced 100 milers typically get into and out of a TA like a race car driver in the pits. They know what they want, what needs to happen and express gratitude to anyone helping them and get out of there as fast as they can.
In my case, I felt a little like a deer in the headlights. My friends Kim and Heather came over to the solo runner tent to help me out along with at least one or two volunteers who were ready to tend to my every need. They asked me what I needed, and my first reaction was to say, I don't know, what should I need? I knew I needed to switch out my nutrition (gels and Clif blocks) from my TA 2 drop bag that I had prepared ahead of time. Truthfully that's all I needed to do at this point but with all the attention I almost felt like I should need something else. Once I had my nutrition loaded up in my race vest, I headed over to the TA 2 food table and what a spread it was. There must have been 10 or 15 different options of food. I was on my nutrition plan of consuming 200 + calories an hour from the food I was carrying and didn't really need anything, but I felt obligated to take something. I took a dill pickle a handful of pretzels and a few Oreo's.
Leg 3
Leg 3, the second hardest leg of the race is referred to as Satins Sack because of the furnace-like conditions in a warm year. Luckily, for the runners on section 3, this year turned out to be a wet year and not a hot year. In fact, the race director called it the wettest conditions in the race's 12-year history. We would pay for that on other legs of the race.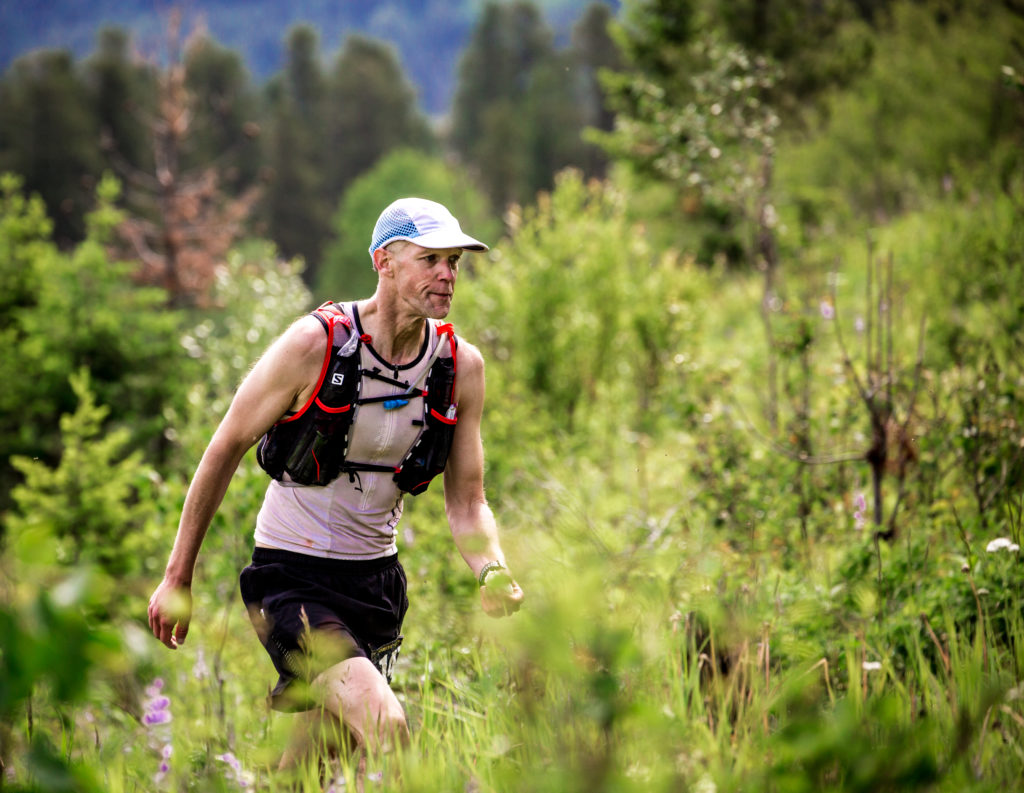 Going into leg 3 I was prepared for warm conditions but having heard that the section was mostly runnable I was not prepared for the hills of this leg. The leg started off with running straight up a ski hill, no switchbacks, straight up. It seemed to go on and on and I started getting frustrated that I wasn't running more. This was the first time I started to let my attitude slide… downhill. After walking for what seemed to be about 45 min I was cursing the never-ending hills and was becoming more agitated by all the runners passing me. Even though I knew most of them were fresh relay runners running a different race, in my semi, exhausted state it still pissed me off. In just about all the running races I have done over the past 25 years, after the first km or so people sort themselves out and I rarely get passed by multiple runners at a time. This experience helped my attitude sink even lower. Soon I was having a full-on pity party in my head. If there was a Wambulance nearby it would have surely picked me up.
I even had thoughts of all the whiny students I have taught on leg on expeditions over the years, especially during the first few days of a trip when their body is in shock from lugging around a heavy backpack. I wondered, is this how they felt, if so, perhaps I should have been more compassionate at the time. When you run for so many hours alone in an exhaustive state your mind can take you crazy places. At one point a kid passed me, I asked him how old he was, and he responded that he was 16 and thankfully was on a relay team. Normally I would have been pumping him up and cheering him on, but I couldn't muster the energy. He asked if I was a solo (100 mile) runner and when I responded Yes, he said he hoped to run the race solo one day when he "grows up". Again, I would have normally been encouraging here but I could hardly muster an eye roll before he was out of sight.
About 500 meters past the last Check Point, CP (each leg usually had 2 CP's which were basic aid stations about 7 km apart with a couple of types of food, water and electrolyte drinks) I ran out of water in my water bladder. I liked the bladder because it is easy to drink out of and you can carry a lot more water than in a bottle, but the downfall is not knowing exactly how much fluid you have left because the bladder is stuffed in the back of your running vest, out of sight, and most bottles are carried in hand or in a pocket in front of your vest.
This may have been the start to my dehydration phase…. There was no way I was going back to the CP to fill up, so I started looking for creeks along the side of the logging road I was traveling at this point. I was pretty high up in the mountains, so I wasn't too concerned about contaminated water. I was carrying a little foldable cup with me so I used that to drink some water running out of one culvert and a couple of streams along the road before I could fill up at the next CP.
As leg 3 came to a close, in my increasingly dehydrated state, I was becoming very frustrated with the course and how it was different from my expectations, (what was I expecting, a flat path next to a river??) and the pity party in my head was in full effect. Much of leg 3 I ran by myself as I started to slow compared to most runners, especially the relay runners cruising by. I need to be able to run by myself and keep a positive attitude, but it is sure easy to get inside your head and tell yourself negative stories when there is no one around to chat with and distract you.
For the most part, I did stick on my nutrition plan of 200 calories an hour through gels and Clif Blocks with a little more food at the CP like pretzels and dill pickles.
At the height of my inter-head whining, I was stumbling down the ski hill coming into TA 3 to fill up on water and reload my nutrition, I was quickly snapped out of my bad mood when I spotted my sister and brother-in-law and their three kids. They were holding up a large painted GO SHAWN GO sign. I had thought I may see them along the course during the day, but I was shocked by the sign and it was just what I needed to be snapped out of my funk. I became pretty emotional at this point in my fragile mental state and started tearing up under my sunglasses. The thought of dropping out had not entered my mind at this point but I knew I was in for a tough battle to get through the course.
At TA 3 I feel like I spent most of my time whining to Kim and Heather about the course. This is not like me and looking back was a useless waste of energy and was disrespectful to Kim and Heather who were just trying to help me out. Sorry ladies, I would like to blame it on the dehydration setting in…. I remember saying to them this race kind of feels like a mid-life crisis for me and the always quick-witted Heather responded, "well it's better than having you sleep with the secretary". I appreciated her attempt to lift my spirits, but I am not sure I mustered the energy to crack a smile. I wish I could have my time back to express some gratitude to my friends at this time, but my pity party wouldn't allow it.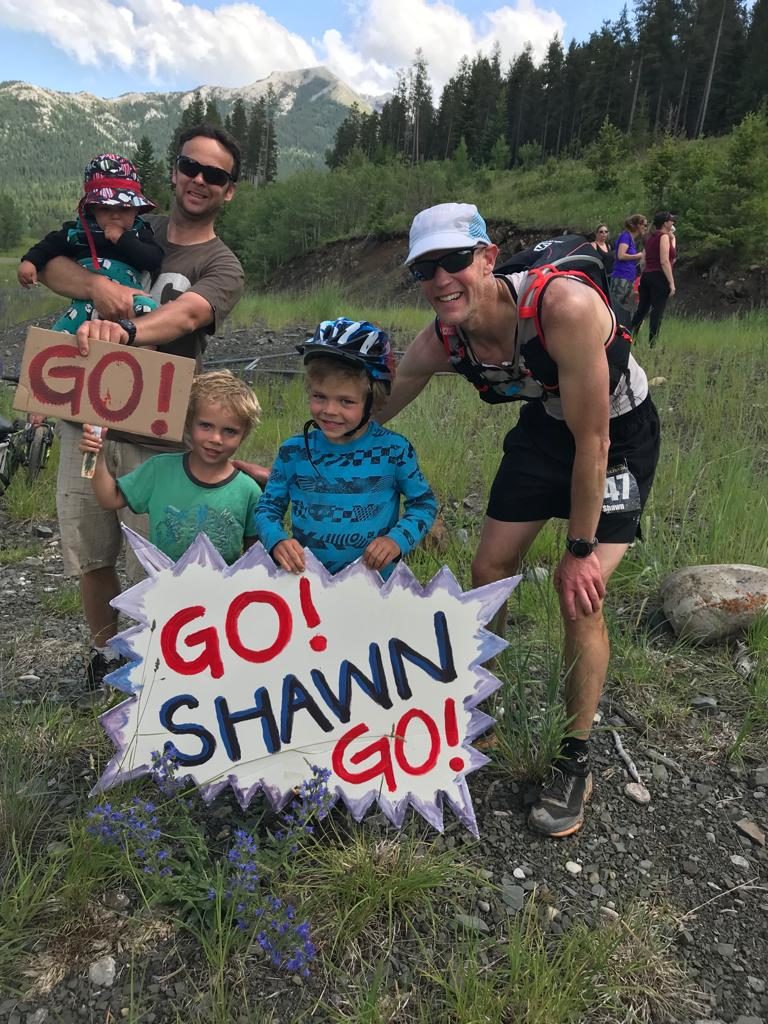 At TA 3 I was happy to see that Kim had gotten some trekking poles for me. After leg 2 I mentioned to her that I thought they could be helpful. I did think about using them in the race but in the weeks leading up to the race a few experienced ultra-runners suggested I didn't use them because "they only slow you down". Well at this point I felt I couldn't get much slower and my knees could really use the support on the steep downhills. I was a little concerned using the poles running in a race for the first time as I had not practiced with them at all something I would have down if I was going to use them in a race. Luckily, I had used poles while leading expeditions for years and the feeling came right back to me and it wasn't an issue at all. The poles gave me the spring in my step I needed to adjust my attitude starting leg 4.
LEG 4
"The worst part of leg 4 is the fact it comes after leg 3," said one experience Sinner at the end of leg 3.
Leg 4 started out well, the trail was a single track cruiser mountain bike trail that was nicely shaded in the forest and actually had a switchback instead of the route that took us straight up the ski hill at the beginning of leg 3. The first half of leg 4 I felt like I was keeping up a good pace but continued to get annoyed by being passed by relay runners. At this point in the race, I fell like I had been holding off spasms in my quads for hours. In a marathon, if your leg spasms once your race could be over (or at least any hope for a fast time). In a 100 mile race, I learned that you will experience these approaching spasms for hours as it's the body's way of telling you to slow down. Your quads will feel smashed and you just needed to manage the pain and run through it, but you can't run when your muscles are spasming. As one runner told me, "a 100 miles race is just a game of pain management".
At one point I had to have a poop in the woods, which is a good thing but with seemingly every muscle in my legs cramping up as I tried to assume my position it had to be the most difficulty poops of my life.
As leg 4 dragged on, my stomach started to become unsettled. I was losing any desire to eat, especially the gels and blocks, which was essentially straight sugar I had been eating for the last 12 hours. Feeling nauseated I even slowed down my water intake, which was a big mistake, but I didn't want to vomit. I had read many horror stories about people vomiting up all their calories in an ultra and having to drop out of the race or, at best, having a miserable race.

At the last CP in leg 4 I was tired and weak enough that I sat in a chair for a while to try and regroup. No runners sat down at CP's, so I thought this had to be another bad sign. After a few minutes, I got moving again and the last 7 km to TA 4 became what felt like a death march. It was a long slow shuffle down a gentle sloping logging road, some of the best terrain to run on this course. For me, it turned into just putting one foot in front of the other. Over this last hour of leg 4, I gradually talked myself into dropping out of the race at TA 4. In my weakened, calorie depleted and dehydrated state I just couldn't fathom any way I could possibly go on. In fact, when it started to rain during that last hour, I came very close to curling up in a ball on the side of the trail and asking some other runners to get help for me. The only thing that kept me going was thinking I could be there for hours before someone came to pick me up and I could get this over within 30 minutes or so if I could just keep shuffling.
I had justified things in my mind so much that I wanted to take a video of myself explaining my drop out so I could look back on it in the future. I made up all kinds of stories in my head, you just can't train for this mountain race in Ottawa, 100 milers are just not my distance and I am better suited for 50 milers (of which I have done two very successfully), if I eat one more thing I am going to vomit all my nutrition up, etc.
The hardest story I had to come up with was what I was going to tell Alexandra (my wife) and kids. I knew Alexandra would think in a few days I would be disappointed in my race and want to sign up for another 100 miler to redeem myself soon. This would require a time commitment she would not be happy about. After over 20 years of running races I drop out of my first race ever, a 100 km, last year in Vermont because of dehydration from a stomach bug I picked up just before the race, my kids reminded me not to get dehydrated in this race and dropout. What I was going to tell them, I had not thought of yet. Since they were too young to fathom distance, at 10 km or 100 miles, dropping out of a race is all the same to them and I knew it would almost kill me to tell them I had to drop out of a race again.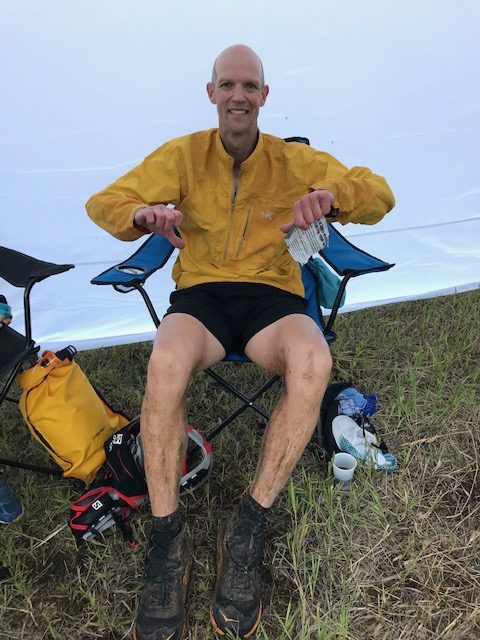 Pulling into TA 4 I grabbed a seat in the transition tent and as my friends came over, I told them I was done before they got to say a word. I explained how my body felt and they were very encouraging. The medic came over and took one look at me and said, "you don't look very good". I told her I didn't want her to take my vitals because I knew they wouldn't be very good, and I was afraid they would send me off to hospital as they did last summer in Vermont that caused a whole number of logistical issues. I felt with just a little rest and some fluids I would feel well enough to go back to the campground and have a good night sleep.
Kim had to leave right away as she was a relay runner and she needed to get to the location where her leg would be starting. Seeing that I was dropping out she asked if she could take the trekking poles with her which was fine by me. I took a moment to text my family to tell them I was ok but that I would be dropping out of the race.
In order to officially DNF (did not finish) these races, you need to hand over your race number to a race official. Once I caught my breath and talked to my friends about how I was feeling I unpinned my race number from my shorts and tried to pass it to the volunteer who was checking on me and now supplying me with bowls of veggie broth. To my surprise he wouldn't take my number, he said: "I'm not taking that from you until you until you walk out of this tent". He then said that I still have 5.5 hours until the cut off time at that TA and why don't I take some time to rest and get some fluids in. In hindsight, I will be forever thankful for his suggestion
Comfortable in the chair and off my feet, I wasn't in a rush to go anywhere. At this point it was about 8:30 pm and I had been on the move for over 13 hours without stopping for more than a few minutes at a time. I went about washing the mud off my legs and changing my socks and shoes, not because it would help me feel fresh on the next leg of the race as its intended use, but I thought I would be getting into someone's car soon to drive back to my campsite and I couldn't get in a car covered in mud like this.
At one point Katherine said to me, "you have done amazing even if you don't go a single step further, we are so proud of you, come home with us and have a hot bath and a big dinner and a warm bed." Looking back, it is hard to believe I passed this offer up at this time, but I didn't want to be any more trouble to Katherine and her awesome family. I just wanted to get back to my tent and continue my pity party. I told Katherine to go on home as I felt bad causing her to have her kids up so late because of me.
After one bowl of broth went down so well, I had another and another and bowl of chips and finally a bowl of perogies over an approximately 90 minute period. I was in awe of other solo runners coming into the TA is high spirits, going about their business and continuing with their race. I was perplexed about how they could feel so good.
Once all the broth made it through my system, I eventually had to go pee and, much to my surprise, when I stood up, I actually felt pretty good. Shockingly there was minimal stiffness in my legs and with the help of a change of clothes I almost felt, dare I say fresh. My urine was even almost clear which was a massive improvement to my last pee which was a dark orange dribble.
I did a few deep knee bends to confirm my legs were really ok and then the crazy idea slowly came into my head that I may actually be alright to continue on with the race. I then ran around in a circle a few times and miraculously I actually felt pretty good. Before I confirmed my decision to continue on, I check with the volunteer Scott Rattray (my new hero for not taking my number, not rushing me to get out of the transition and tending to any need I had) to see if I could be picked up at the next CP, 7 km away if I decided I just couldn't go on. At this point, if I was to continue, I would need to just focus on running to the next CP and not think about the finish as I still had almost 80 km and half the race ahead of me. A few minutes later Scott did confirm that they could get a car into the next CP to get me out if I need to drop out then.
Now that I was going to continue, I knew that I would need a new nutrition strategy as I couldn't possibly stomach another gel or Cliff Block. I decided I would load up on the electrolyte drink Tailwind, which was provided at each CP, to get not only my hydration but my calories. At least until I felt I could get some gels into my system.
It was a good thing I packed a couple of caffeine pills as I was planning to get my overnight caffeine from caffeinated gels I had saved to start consuming after 8 pm. Now all those were useless to me.
Before heading out of TA 4 to continue my race I sent a text to my family again, this time telling them I wasn't going to drop out and that I would be continuing on. I layered up with some warm clothes, put my headlamp on and connected with a buddy. I remember I was told by an experienced ultra-runner that it is wise to try to run with someone, especially in the latter stages of the race to help take your mind away from the pain and sometimes boredom of these extreme distance races. I connect with a runner that was about to head out the same time I was. I explained my situation and asked if I could run with him for a bit to make sure I was feeling alright.
Leg 5
We set out running a flat 5 km section at dusk and shockingly I felt great and kept feeling stronger the further I went. My new friend wanted to add some walk breaks which I agreed to, not wanting to be overzealous and not wanting to leave him as he started to struggle. Eventually, we cruised through the first checkpoint and continued up the section of leg 5 that had it renamed to Lake 5. The route took us up a gradually inclining old gravel road that had enormous 10-15-meter wide puddles, many of them the deep and had thick vegetation growing in on either side. Most of the puddles we tried to skirt our way around the edge, holding on to the bushes and trees but the mud underfoot often caused us to slip back into the puddle.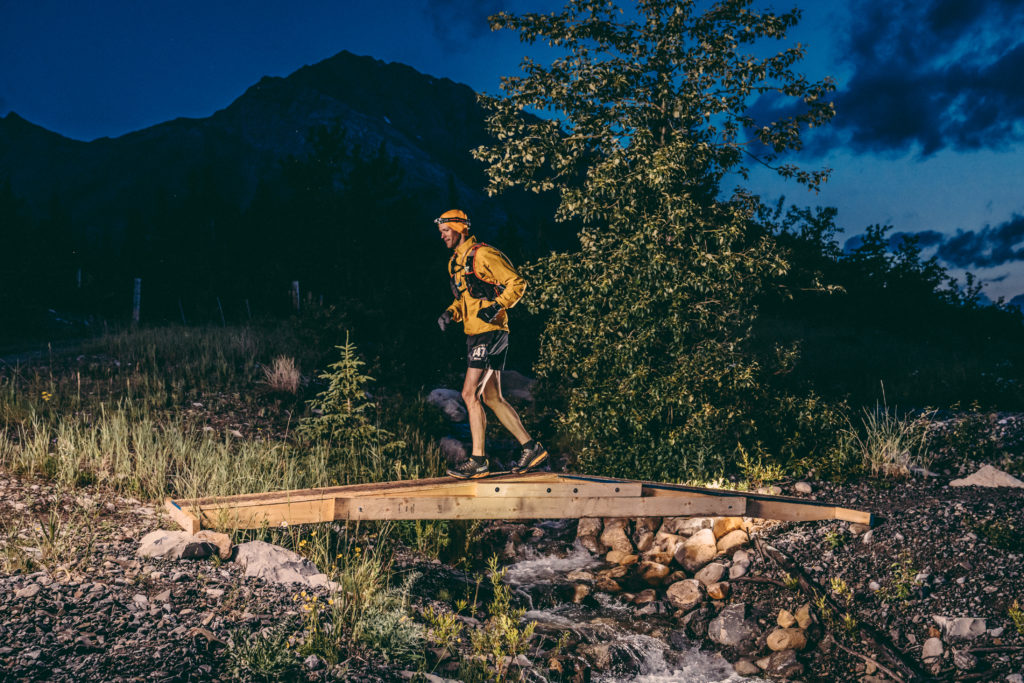 Eventually, I left my new friend when I saw he was moving with another guy similar to his speed. I was feeling great and had some catching up to do. One by one I set my eyes on the runners ahead of me with the aim of passing them. At this point, I started not only passing 100-mile solo runners but relay runners as well. The further I went the stronger I got.
By fluke, I bumped into Kim at the last CP in leg 5 as the CP is also the last one on leg 6, the section she was running. I totally confused her when I noticed her and said hi. Last she knew, I was committed to dropping out of the race. For a moment she thought that I decided to volunteer at this CP seeing my race was over. I briefly explained to her my turnaround and off she went to finish her leg while I stuck around for another minute to grab some more food. I was kicking myself for not asking her if I could use her poles for the next section as I was missing them with the constant muddy terrain.
When I arrive at TA 5 and retrieved my drop bag, I was relieved to see that Kim had indeed left her poles for me. Thanks again, Kim! I was excited to get to TA 5 in good spirits and spent a little more time there than planned but I wanted to be sure I got some more of the magic broth in me before setting out on leg 6, the hardest leg of the race, a 7 out of 7 on the toughness scale.
Leg 6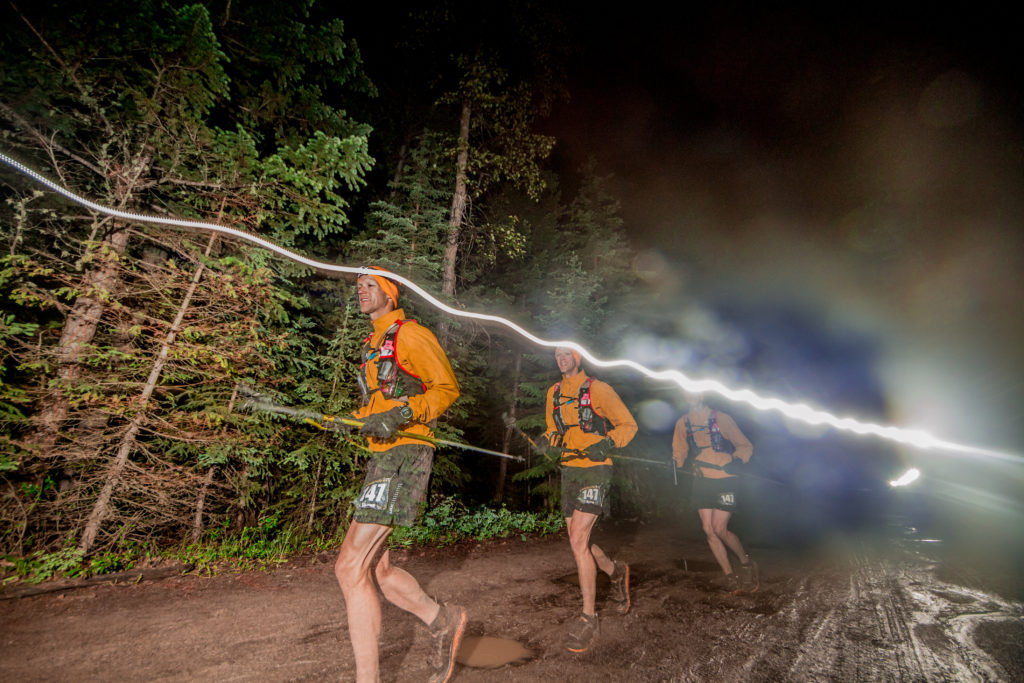 One great bonus to being much slower than I expected was that I was able to reach the high point of the trail over the mountain right at sunrise. It was a magical moment. I stopped to take in all the beauty around me and sent a short video message to my kids to let them know I was thinking about them and that I would be done soon.
Unfortunately, the route had us running only a short distance in the alpine, which is my favorite area to travel in the mountains before we dropped down the backside of the mountain. Leaving the highpoint, an exciting feeling washed over me as I knew I still had some work ahead of me, but I would finish this race.
Leg 7
I had a quick transition in TA 6, and I set off on the last leg, a 10 km run into town which still had some significant climbs and decent. Nothing was going to stop me now as I continued to catch people. Finally reaching pavement in the town of Coleman 1 km from the finish I could start to hear the crowd gathered at the finish line. I picked up my pace for those final meters into the finishing shoot and as I crossed the line let out a loud YES! as I experienced pure elation that I had actually finished this race, after all, I had been through. My finish time was 28:00:40, two hours before the 30 hour cut off.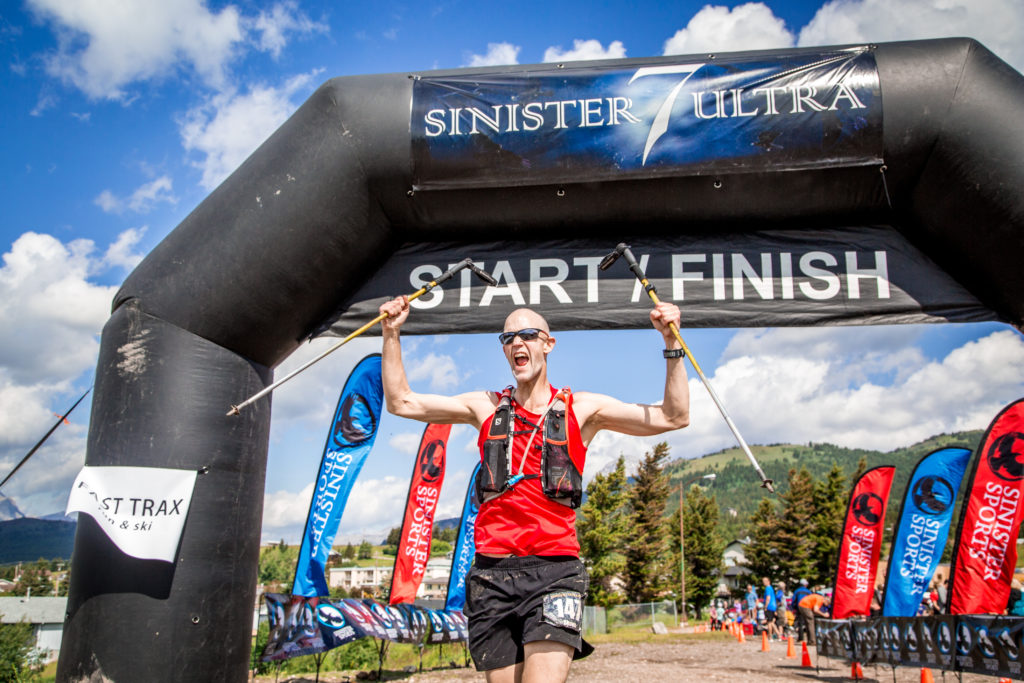 In the end, only 28% of the solo 100-mile runners finished the race, which is a little lower than average, but I can now see why. 100 miles in no joke and can be very tricky to trail for properly.
There are so many lessons I will take away from this experience and someday perhaps I will pull them out and list them but right now I am exhausted reliving this experience and need a break from thinking about it.
After any major race or adventure such as this people often ask, "What's next?" Well, I have committed to not running another race until my next book on Leadership is published. The manuscript is finished, and I am in the layout phase, so I hope to have it in my hand sometime in late fall.
Once again, I want to thank Kim Young, Katherine and Jim Russell, Heather Wicksted and Matt Daw for supporting on race day and cheering me on and of course Alexandra and my girls for putting up with my training and letting this race hijack me from our vacation for a few days.
Thanks for making it this far, well done! I hope you can take away something from my story that you can relate to in your own life, even if it is just – take a break and regroup when faced with a difficult decision; time can give you a different perspective.
"It wouldn't be an adventure if you knew the ending" and this was certainly an adventure!
Let me know what your next adventure is, it doesn't have to be running an ultramarathon, it just needs to get you excited and to have an unknown ending.
---
Shawn Stratton is an international leadership and team building consultant, professional speaker, bestselling author, endurance athlete, and a dad.
Click here to learn more about how Shawn can help your organization.
© 2019 Shawn Stratton. All rights reserved