Speak Up and Make a Difference!
In the past couple weeks, as a consumer, I have had two experiences where I have been affected by an organization's policy that I thought was completely ridiculous based on my experience. In both cases, when I approached the frontline employee looking for an explanation, they shared in my frustration and also thought the policy was unwarranted. In one case, I addressed a (middle) manager about the policy and he also felt the same way. (To avoid turning this into a rant, I won't explain the situations here. If you want more details send me an email.)
Is this the reaction you would want from your team members when speaking with customers, clients or suppliers?
As a leader, I know I would want my team to clearly understand and accept all our policies and have a clear and compelling explanation for any policy that may affect a customer. If they didn't believe in the policy for whatever reason, I would expect them to approach me or senior management seeking further clarification or (even better) offer an alternative suggestion on why the policy should be removed or altered. I don't want to be surrounded by a team of YES people or sheep with blinders on who just follow along without ever asking WHY.
Stand Up For What You Believe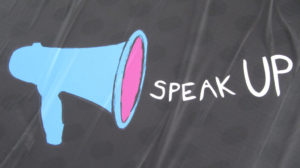 Perhaps I am just a shit disturber or passionate about the work I do and the people I do it for. Nevertheless, when I am working for an organization and I don't think something is right or could be improved, I will speak up or ask for my responsibilities to be changed or leave the organization.
Years ago, I was working for a reputable Canadian outdoor education company who had school groups, families and corporate groups visit their facility throughout the year. One of the most popular activities at the facility was their High Ropes Course (see image of example below). Before coming to the organization, I had been working on high ropes courses at many different organizations and had received advanced level training and certification as a facilitator.
The first day I worked on the course, I asked where all the helmets were for the participants. I was shocked, flabbergasted, blown away, whatever you want to call it, when they told me "we don't use helmets on the high ropes course." This was in the 2000s, not the 70s or 80s, when that may have been the norm. I couldn't understand it. It wasn't as if they didn't have helmets and it would be a large expense to buy new ones. The facility has several rock climbing locations on the site in which helmets were already being used.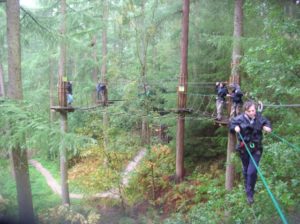 I waited a few days to settle into my new job, meet the people, and confirm with the other instructor this was really true that no one needed to wear helmets on the high ropes course. At the end of my first week, I approached my manager to share my concern with the no-helmet policy with the hope he would have a great explanation. With next to no explanation from my manager, I told him I didn't know of any other course in North America that allowed participants to go on their course without helmets. I conclude that with my level of training and experience, I couldn't work as an instructor on their course until everyone had helmets on.
In our Monday morning staff meeting, the management announced that we would now be using helmets for all participants on the ropes course. I was excited, shocked and a little disappointed. The disappointment came because after all these years, the management hadn't taken it upon themselves to make this easy change that would affect the safety of thousands of people that have used the course over the years.

Do You Understand and Agree?
Is there a policy that you are enforcing that you don't believe in or makes your customer or supplier shake their head in disbelief?
Sometimes, policies need to be challenged, amended, replaced or even deleted.
Never accept the "because that's the way we have always done it" answer. If you hear this, always push for more justification. When challenging policy, come up with a solution and or evidence to support your cause and you have a far greater chance of making a difference. An example of showing evidence is showing industry norms. What are others in a similar position doing?
Action: In a team meeting this week, ask your team if there is any company policy that they don't understand or agree with. If any come up, clearly tell them why the policy is in place. If an individual wants further clarification or offers suggestions for change, set a time to meet with them later to discuss.
Until next time… Embrace the Adventure
Shawn
Shawn Stratton is an international leadership and team building consultant, professional speaker, bestselling author and Ironman competitor.
Click here to learn more about how Shawn can help your organization.
© 2017 Shawn Stratton. All rights reserved