Here the last half of my Mt. Logan expedition story. Enjoy
————
Now we were all alone at the Col, surprised to be the lead team on the mountain but excited and eager to take on the icefall. The next day, after traveling for eight hours and being shut down by a maze of crevasses, ice walls and weak ice bridges, we found a small but strong bridge that would connect us to the next slope. Needless to say we were thrilled to find the route.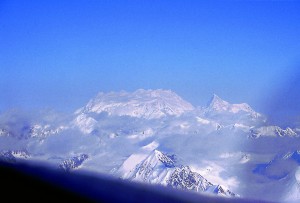 When we got back to the Col, we spent a couple of days ferrying loads through the icefall to our higher camps. We decided to try and go light and fast for our last three high camps, which meant leaving behind all our none essentials such as our entertainment (mini CD and speaker, books, and cards). We also stashed a bunch of extra food at the camp. Over the next nine days we spent the best part of six days in our tent, weathered in by storms, without our entertainment. We got so desperate that Nicole cut up about five pages of her journal to make a deck of cards. She decided to have "hot" themes on the cards so instead of the traditional spades, heart, clubs and diamonds we had surfboards, suns, bikinis and flowers.
The day we got to high camp at 18,000 ft. was blue bird and warm (for 18,000 ft.). We were almost sure the next day would be the same and we would have a great shot at the summit, 1,500 ft. and five kilometers away. But sometime in the middle of the night a storm moved in and I knew we wouldn't be going anywhere. The storm ragged for two and half days. At one point we were worried the tent would disintegrate around us with gale force winds so we had to get out and build a huge snow wall around the tent to protect us. You would not believe how out of breath you get after shoveling for just a couple minutes at these elevations. At this point in the expedition our tent was like a cocoon to us, a little safe haven. It's crazy to think how a thin piece of nylon can protect you from such inhospitable conditions—it's also crazy how much noise it can make. Picture your bed sheets outside on the close line on the windiest day of the year. That's the noise we had for hours and hours!
After our second full day in the tent we knew the next day would be our last chance at the summit because of time and food constraints. At this point we had been living off Raman noodles, soup and Cliff bars for several days. That evening the skies cleared up and the wind died. I was so excited that the next day we would have great weather for our summit attempts…I barley slept.
The next morning started off clear, calm and very cold (-30 in the tent), so the summit bid was a go. We were going to try to be the first people this year to stand on the summit. The climb to the top would be an agonizing (everything at this elevation is agonizing) 10 kilometer round trip, 3,000-ft. (you have to go up and down several other high peaks to get to the summit) climb. This was the day we had all been saving our chemical heaters for to save us from frostbite.
A couple hours after leaving camp clouds started forming and engulfing us, severely reducing our visibility but not enough to halt our progress. As the clouds moved in and out the wind increased rapidly and by 4 p.m. we were recording 40 mile an hour gusts. It had also been heavily snowing for the last hour. The visibility was deteriorating rapidly and it got to the point that we could not see each other as we climbed, roped together 20 meters apart. We decided to gather up and talk about the conditions, at this time I recorded a wind chill factor of -50 Ceclsius or -47 Fahrenheit.
As the first person on the rope team I was doing the route finding and officially couldn't see a thing. Physically we all felt good but we knew we would be risking our lives to continue on in these conditions. So, about 1.5 kilometers and 500 ft. below the summit, we called it, and turned back. Fortunately we had been placing wands (markers in the snow) every 60 meters from camp that allowed us to find our way back in the intense whiteout conditions. We all made it back to camp safe and sound, exhausted and bummed we didn't get the summit but thrilled we were healthy and had not trace of frostbite.
Fortunately the next day was clear for us to head down the mountain. This was going to be the fun part we had been working for…the ski decent! I quickly realized how difficult it was going to be to ski in challenging snow conditions with a 60-pound pack at 17,000 ft. Wanting to carve it up and make some beauty turns quickly turned into 'get me down in one piece'.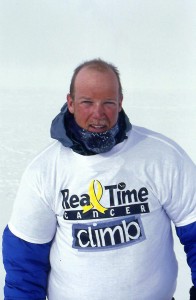 When we got to the top ice fall we were shocked to see about 10 tents and 25 people staring up at us from King Col. These people had all flown into base camp and moved up to the Col over the seven days we had been up high. Getting back down the icefall proved to be much more challenging than expected because, as the name would suggest, things are constantly changing in glacier "icefall". Not only were there bridges and cracks in new places, there was also three feet of fresh snow for us to wade through. This section was too steep and technical for skis so we had to carry them on our backpacks.
As we carefully made our way down the icefall, we noticed that just about all the climbers below had their eyes fixed on us. It was a strange feeling to be watched—it was like we were the evening show or something. For three hours we maintained our focus and tediously down climbed the slope to be greeted by about 15 people. They were all eager to know if we had made the summit. They were a little disappointed with our news but were full of congratulations on our nice work getting safely down through the icefall.
It was a little overwhelming and flattering to be swamped by these climbers (I kind of felt like a celebrity). They all seemed to know who we were and everything about us. Several of them talked about NOLS and others mentioned how great it was to see two females up there.
It was now about 10 p.m. and we were visibly exhausted. They immediately fed us soup, took our packs and offered to set up out tent. They were also full of questions about the route.
The next morning we got up early and headed down to base camp to meet our pilot to be flown back to the land of the living (nothing lives at these elevations besides snow, ice and a little bit of exposed rock). Our pilot treated us to another amazing flight, taking us up near the summit to see exactly how close we got.
Till next time, LiveMore today!
Shawn