If you are reading this in your usual workspace, look around: what does this space say about you? Is it as bare as the day you moved into the space? Does it have the mandatory corporate flare of inspirational posters and the latest promotion? Or, is it decked out with family photos and your children's artwork?
When I have a meeting at a bank, I always notice how sterile their offices feel. There is never any personal effect on display, not even family photos. Last year, I was meeting with my account manager and we were talking about our families. As I looked around, I noticed the only thing on the walls were posters of the latest corporate promotions and on his desk were business cards and a holder for corporate trifold brochures.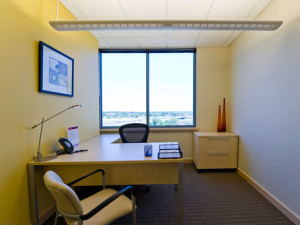 I had observed this for years but this time I decided to ask him why he didn't have a photo of his family on the wall or his desk. I was shocked when he said that it was a corporate policy that employees were not allowed to display personal effects in their offices. I thought how sad that is.
I am all for having a clean office to meet clients in but come on, you can't even show a family photo.
There have been many studies done on the benefits of having employees decorate their workspaces.
If you can provide people with a comfortable workspace, they are more likely to be effective. When we are not comfortable, our attention is divided, not focused. When people customize their workspace they feel a sense of ownership, and an identity. Workplace leaders need to invest in people's comfort.
People with their own pictures on the wall are more likely to be committed to the company and less likely to think about leaving than those who leave their offices the same as they found them. Perhaps this has something to do with the fact I seem to have a new account manager at the bank every time I go to meet with them. People identify with their personal space. They can feel territorial about it. They become more invested in doing a good job.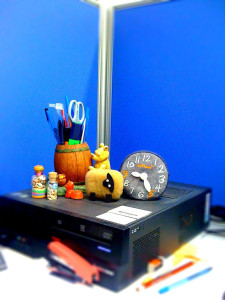 In the book The Best Place to Work, author Rod Friedman notes that some organizations, such as DreamWorks go as far as to give new employees $100 to customize their workspace. As a leader, you cannot force employees to put pictures on their wall but you can model a clean personalized office.
Psychological scientists Gregory A. Laurence, Yitzhak Fried, and Linda H found that "creating a place of one's own in an otherwise public workspace environment should further contribute to individuals' positive cognitive and affective states, resulting in enhanced mental resources, enabling better coping with the potentially debilitating interferences associated with low privacy," as noted in the Journal of Environmental Psychology
For people who struggle with lack of privacy in an open concept office, bringing in personal items, such as photos, knick-knacks, and children's drawings, may provide workers with a greater sense of ownership and control over their space. People crave control and this feeling could help buffer against the negative effects from the lack of privacy working in a cubical or an office without any walls.
Action: Do one thing this week to better personalize your workspace. If you already have personalized it, update the space by replacing pictures with newer or different ones.
Until next week… Embrace the Adventure
Shawn
Shawn Stratton is an international leadership and team building consultant, professional speaker, bestselling author and Ironman competitor.
Click here to learn more about how Shawn can help your organization.
© 2016 Shawn Stratton. All rights reserved.